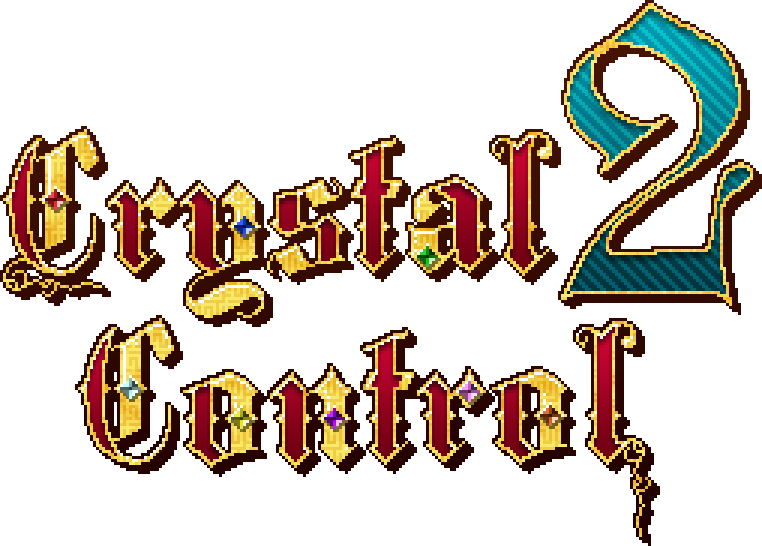 Crystal Control II
A downloadable game for Windows and macOS
UPDATE 4/17/17 - All characters and backgrounds are now fully animated! We're still tweaking stuff and looking into single player ideas, so stay tuned!
---
The crystals return!
Crystal Control II is the follow-up to one of our most successful releases. The original game, released in 2014, was a competitive game for two local players with some bullet hell elements. Because that core gameplay seemed to resonate so well with the fans, we decided to stick pretty closely to the original formula for the sequel...but with some interesting new twists!
Features:
Local multiplayer action for two! Fight for control of the crystals to gain more firepower and take out your opponent...you only need to get one hit on them to win!
Easy to learn, hard to master! We've seen players of all skill levels pick up the game and understand it's simple controls. Don't let the simplicity fool you, though! The skill ceiling can be quite high, giving room for the competitive folks to shine.
Eight playable characters! Each character has different movement speeds, charge times, and "Control" abilities (which can be executed after capturing more than half of the total crystals on-screen). Some even have unique charge shots!


You must have at least one gamepad in order to play this game!
Crystal Control II is best played with two gamepads, but we also support gamepad vs keyboard matches if you only have one gamepad. We also plan to include a mode which allows two players to share a single gamepad.
We do not currently have any plans to support a keyboard only mode for Versus. Most keyboards have a limit on simultaneous key presses that is much too low for the number of keys Crystal Control II would require (which means that key presses would be dropped randomly and create unfair matches).
---
Why Early Access?
Trying to create an competitive local multiplayer experience with 8 unique characters is tricky. I can test for bugs all day and night, but from a balancing perspective there's simply no way our small team can produce enough data to ensure the game is fun and fair with every character matchup we have to offer. That's where you come in!
The versus mode is fully implemented and playable, we're simply lacking some additional animation frames for many characters (because there's a nonzero chance that their hitbox could change and require reworked art). We've made a few public appearances and gotten feedback from players, but there's likely still a lot of fine tuning that needs to be done.
Purchasing this game in its Early Access state means you can provide feedback and help us make the game even better before it's final release. As thanks, we're offering the game at a lower price than we expect the final version to launch with (and of course, you'll receive all updates along the way for no extra cost). You'll also receive a Steam key when the game goes live near the end of August!
Please visit the discussion board to discuss your favorite strategies, provide feedback, and report bugs on the game. Your contributions are deeply appreciated and we will try to take all feedback into consideration.
---
Gamepad Controls:
In Menu:
Analog Stick/D-Pad - Navigate Character and Stage Select screens
A button - Select a character/stage
B button - Cancel selection
Y button - Toggle display of character specific skill information
Back button - Exit current menu (or close game if on title screen)
In Game:
Analog Stick/D-Pad - Move up/down
A button - Fire L1 bullet/"Ready" for next round
Hold A button - Charge
Release A button - Fire L2 or L3 bullet (depending on charge time)
X button - Activate "Control" ability (only available if you "own" 7 or more crystals)
Hold Back button - Exit to Character Select (both players must hold for 3 seconds)
Keyboard Controls:
In Menu:
Arrow Keys - Navigate Character and Stage Select screens
Z - Select a character/stage
X - Cancel selection
C - Toggle display of character specific skill information
ESC - Exit current menu (or close game if on title screen)
In Game:
Arrow Keys - Move up/down
Z - Fire L1 bullet/"Ready" for next round
Hold Z - Charge
Release Z - Fire L2 or L3 bullet (depending on charge time)
X - Activate "Control" ability (only available if you "own" 7 or more crystals)
Hold ESC - Exit to Character Select (both players must hold for 3 seconds)
---
Credits:
Programming by Eric Neuhaus (@donkeyspaceman)
Design by Michael Connolly (@Shin_Hogosha)
Art by Colin Greenhalgh (@CuddlyColin) & Alexis Bogue (@SACTigerfeet)
Music by Reid Turner (Bandcamp)
Created with Scirra Construct 2
Sound effects made with Bfxr
Purchase
In order to download this game you must purchase it at or above the minimum price of $2.99 USD. Your purchase comes with a Steam key. You will get access to the following files:
crystal-control-ii-win.zip
65 MB
crystal-control-ii-osx.zip
131 MB